"LIFE is ARTS, BE CREATIVE!"
We, LOVEACE, support people to raise
the Quality of Life and Happiness
with ARTS & AROMA♪
★ IEATA Expressive Arts Workshop/ Consultation
★ IFPA Holistic Aroma Therapy
We believe in "three keys for Happiness":
1. to WARM 2. FLOW and 3. FEEL & EXPRESS♪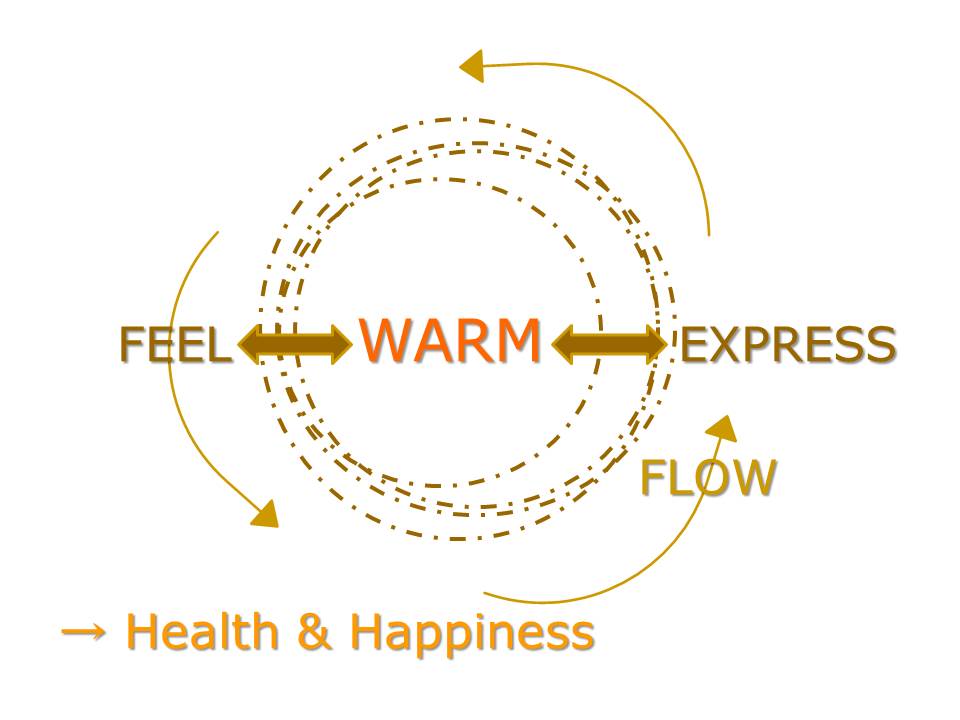 → You become more SECURE and CONFIDENT
in this MINDFUL EXPERIENCE/ COMMUNICATION!!
e.g. People cannot be considerate to one another
in an icy rigorous relation… and, withdraw into their own shells.
It stiffens the bodies with cold and stops all the flows inside.
Then, you become lazy and unfeeling… etc.
HEAL and DEVELOP YOURSELF with ARTS & AROMA!        
Take pleasant heartful air in you and your life
like stretching out the arms and breathe deep in the sun.
Here… let us introduce KEIKO SOEJIMA of LOVEACE:
She's often related to "the SUN"♪
"innocent" like a child, "positive" and with "mild" sensibilities♪
Smiling in freedom♪ as if thinking nothing… haha
but she just lives light and mindfully♪ appreciating each moment of "given" life
since she went through hard time between death and life.
She is the first Japanese accredited by IEATA in 2014
with "Registered Expressive Arts Consultant & Educator (REACE)".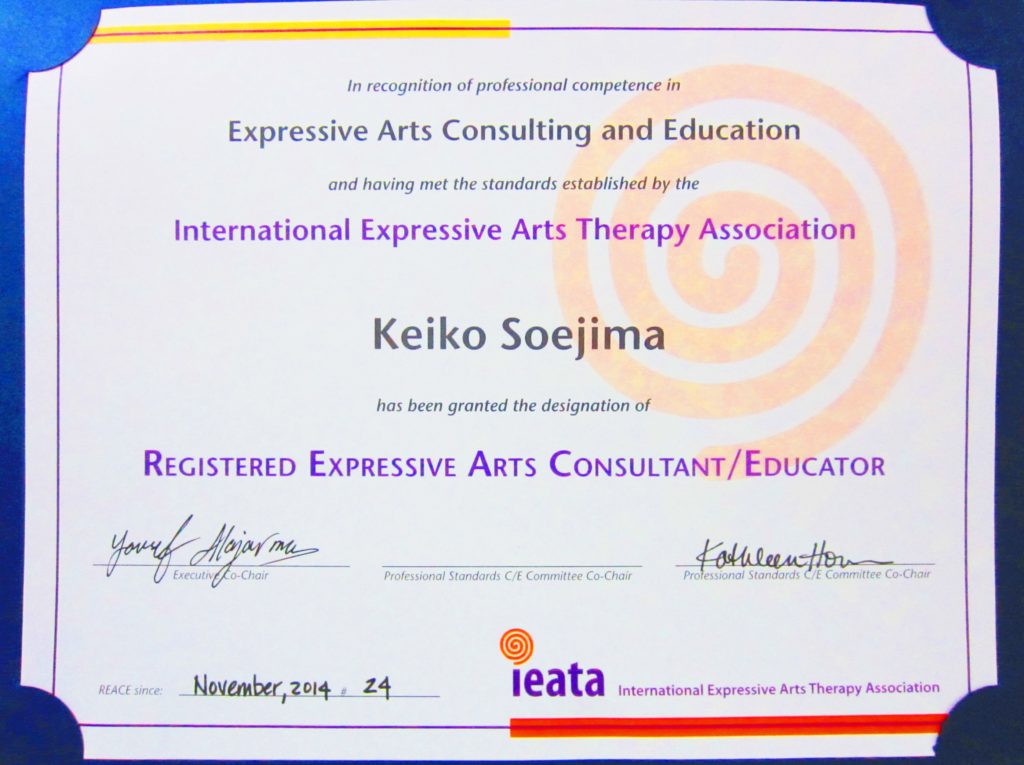 Person Centred Expressive Arts Facilitator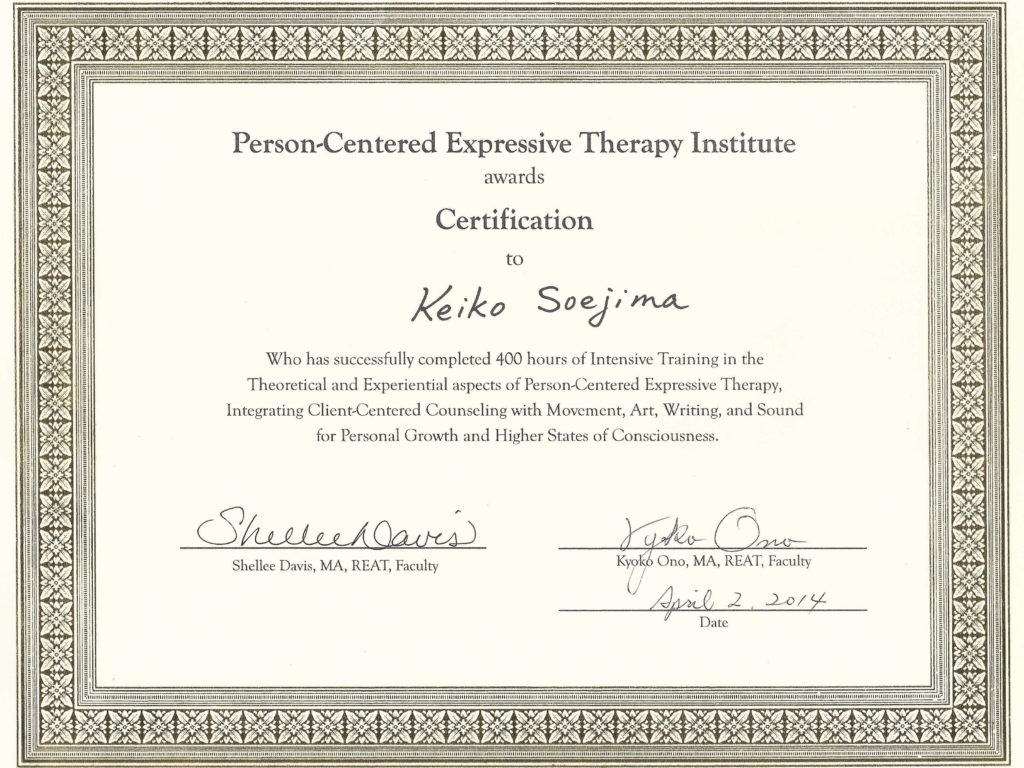 LOVEACE presents you "ARTS de 「空」観 NOTHINGNESS"
(MINDFULNESS SESSION with ARTS)
based on "PCA Expressive Arts Therapy" built by Natalie Rogers,
the daughter of a psychotherapist Carl Rogers.
* PCA= Person Centred Approach
IFPA Holistic Aroma Therapist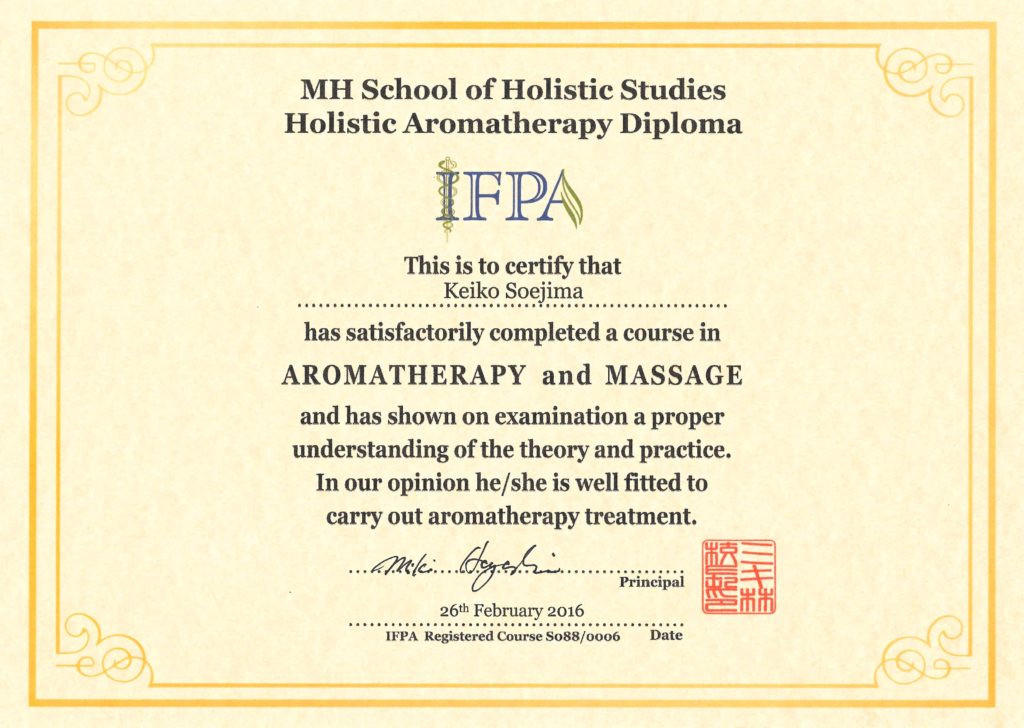 LOVEACE provides you with the authentic British aromatherapy,
established by Madame Arcier (a student of Mme. Maury),
using specially blended essential aroma oils for your needs now♪
For the treatment, feel free to contact us here.
* We can arrange an ARTS and AROMA session for you, too.
In childhood, Keiko played well actively in the fields, mountains and river.
Away from studies, she was often lost in fancies and into acting.
Though, her life was threatened in the rehearsing days
for "right answers" designed by others.
In the white cube in hospital, she was supported by the LOVE of family and friends.
The warm hearts moved her to tears. It eased her and lightened the soul.
When the body also got better and ready, she flew to the UK for her desire.
There, she was inspired by the living stages of performers,
not only acting but BEING! The power of "SELF EXPRESSION" grabbed her.
For that, she felt a need to make "YES" to her own.
Recognising idle fear under her facade, she gradually let herself more "herself".
Then, happiness lit on her and still now… it is growing in her.
Keiko keeps the journey to spread the joy to the world. Be more yourself.
She's met over 10,000 people so far * at the time of 2016
and done workshops, consultations and treatments to flower their creativity.
Happy "partnership" is the advantage of LOVEACE
as we're actually more in LOVE & PEACE in marriage, each feeling happier.